Tuesday, 26 May 2015
Good Morning Ya'll,
I hope you had a good Memorial Day Weekend!! Course now it is back to the grind for some of us. We are back open today. Our next office closing I believe is for the 4th of July and that will be a Friday but I will let you know for sure on the set date. I do hope you had a lot of fun over the weekend and got to spend it with family and friends. I know we remembered all our fallen heros on Monday as they will never be forgotten and this also includes the animal heros as they are just as important. I hope you have a great day today.
Today we have our Bridge players coming in around noon.
We also have Annette with SHIP coming in today as well.
Lets see what's going on in the news. The price of freedom is not cheap. Retired state senator Robert Meeks encouraged those attending Monday's Memorial Day service at American Legion Post 86 in Kendallville to show their love for their country and never forget the sacrifices of America's veterans.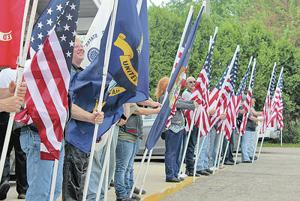 "Instill patriotism in those around you. Recognize veterans for their sacrifices, deserving of more than a pat on the back," he told veterans, their families and friends at the combined American Legion Post 86 and V.F.W. Post 2749 service.
The veteran and retired Indiana State Police trooper from LaGrange asked what has happened to the patriotism that unified the country after 9/11. "I'm baffled by the amount of people willing to demean this country while cloaked in the freedoms our veterans died for," he said.
Meeks has been a member of American Legion Post 243 in LaGrange for 34 years and serves on its executiv
e committee.
He told the audience that too often, Americans take for granted the freedoms they enjoy, such as freedom of speech and freedom of assembly. "The price of freedom is not cheap," he said, adding that price has been paid by soldiers since the Revolutionary War.
There are approximately 583,000 veterans in Indiana. Meeks quoted Abraham Lincoln by saying, "Yes, we know you. Yes, we thank you. Yes, we will
remember you."
Kendallville Mayor Suzanne Handshoe, a retired U.S. Marine and veteran of Desert Storm, reminded those assembled that May 9 was the 70th anniversary of V-E Day, victory in Europe during World War II. More than 14 million served during that war, and more than 416,000 were killed. About 1.5 million World War II veterans are still living.
American Legion Post 86 has 26 surviving World War II veter
ans and four were in attendance Monday: Devon Ihrie, 90, U.S. Army; Howard J. Froelich, 89,. U.S. Army; John Gaines, 89, U.S. Army Air Corps; and Bob Schmidt, 92, U.S. Air Force.
Handshoe also referred to Section 60, which comprises one acre in the 624-acre Arlington National Cemetery in Washington, D.C. It's where more than 6,000 veterans of the wars in Iraq and Afghanistan are buried. "Let us remember all those who have made the ultimate sacrifice,
" she said.
The combined American Legion Post 86, American Legion Post 381 in Rome City and V.F.W. Post 2749 honor guard performed the 21-gun salute and played "Taps."
The Legion Riders stood quietly in a row, holding U.S. flags at the Legion post entrance to welcome those attending the service. Reported by Dennis Nartker KPC News
Today's weather is supposed to be:
05/26/2015
Hi: 79°
Partly cloudy in the morning...Then mostly cloudy with a 50 percent chance of showers and thunderstorms in the afternoon. Highs in the upper 70s. South winds 10 to 20 mph.
Lo: 64°
Mostly cloudy. A 40 percent chance of showers and thunderstorms through midnight. Lows in the mid 60s. Southwest winds 10 to 20 mph.
Take care and be safe.
Shelly

Monday, 18 May 2015
Good Morning Ya'll,
It is a wonderful morning as I am typing this note. I can hear the birds singing and the black birds cawing it just makes it so peaceful. Course there is very little wind to no wind and that would be a perfect time to be out fishing with the water being calm. I do hope you have a great day today and get to enjoy being outside. I know over the weekend we were outside alot as we were planting flowers and making new flower boxes and we still have some more projects that we are going to be working on. How was your weekend and are you ready for the coming weekend for Memorial Day?
I have posted some news on the website about our New building that hopefully next year we will be moving into. I know we are very excited about it and we thank the owners of the land that Dalton Foundary for giving us the land and building so we can have a new Senior Center for the town of Kendallville.
Today we have Hickory Creek coming in around noon to call the numbers for our Bingo players. Come on in and have some fun!!!!
Don't forget that on Wednesday, May 20th we have our Senior Trip to Moose Lake. More information is on the website under Senior Outings.
Lets see what's going on in the news. BMV changes coming. Lawmakers said Saturday they expect the state Legislature will seek changes to the Bureau of Motor Vehicles after an independent audit released last week found the agency may have overcharged motorists and lacks oversight..
"It's our responsibility to see that it gets fixed, and I expect we'll see a large piece of legislation," said state Rep. David Ober, R-Albion.
Ober, state Sen. Sue Glick, R-LaGrange, and Regional Chamber of Northeast Indiana Executive Director Vince Buchanan reviewed significant legislation passed by the General Assembly during its most recent session and responded to questions from a small group of constituents at Saturday morning's legislative forum at the Kendallville Public Library. The library's legislative committee sponsored the gathering.
The state budget, school funding, property taxes, tax abatements, changes in the criminal code and fallout from the controversy surrounding the Religious Freedom Restoration Act were among the topics discussed during the two-hour forum. More than 2,000 bills were introduced during this year's legislative session.
An audit report of the BMV by the accounting firm BKD LLP said the agency lacks oversight and uses a complex fee schedule that leads to inconsistencies for the same transactions. The agency acknowledged overcharging motorists by more than $60 million since 2013, and the audit found 16 new overcharges.
Glick described the audit findings as "horrendous" and "abhorrent." She said there is no uniform system of charges, and people are deliberately misusing funds. She called for a systematic review of the BMV.
Ober said the problems aren't caused by local BMV offices, but instead arise at the state level.
The Republican and Democratic leaders of the House and Senate are expected to meet this month to determine what topics will be considered by legislative study committees during the summer and fall.
Both lawmakers agreed the state's biennial budget of nearly $32 billion was the most significant piece of legislation to come out of the most recent session. Key elements of the budget, according to Glick, were a $474 million increase in funding for K-12 public schools; $100 million appropriated from the state's highway trust fund for local streets and roads; $4.1 billion for Medicaid; funding for more Family and Social Services Administration case workers; and additional support for those helping the developmentally disabled.
Ober pointed out 52 percent of the budget is for education, saying, "The $474 million for K-12 is incredibly significant."
A total of $84 million was allocated for the state's Regional Cities Initiative to support projects that will enrich the quality of life.
"It allows for regions to set priorities. It's an important bill," Ober said. Northeast Indiana leaders will submit an application to the state to be one of two regions that would split the $84 million over two years.
House Bill 1006, which rewrote the state's criminal code, has been in the works for about three years, according to Ober, who said, "It's a huge change in philosophy." The bill favors rehabilitating those with drug addictions through treatment and counseling, instead of building more prisons to house them.
The new budget has $51 million allocated over two years for community corrections programs.
"The drug problem is infiltrating all levels of society, and filling up our jails and prisons," Glick said. She believes in addressing drug addiction at the local level with treatment programs.
"We want to incarcerate people we're scared of. We don't want to incarcerate those we're mad at," she said.
Regarding tax incentives, one member of the audience accused politicians of currying favor with tax abatements for big businesses such as large retailers. "We need to treat people the same and not be bought off," he said.
Another audience member complained about property taxes and assessments, the system of paying educators and school board members staying in office too long. He called the democratic election process a "joke."
In response, Glick explained public schools are funded based on a formula that accounts for enrollment and other factors such as the number of students receiving free and reduced lunches.
"School boards evaluate superintendents, superintendents evaluate principals and principals evaluate teachers. We hope the bad ones are weeded out and the good ones are rewarded," she said.
Teacher evaluations are based on the federally mandated No Child Left Behind Act, Ober said, adding, "Senate Bill 500 that passed takes about 50 education regulations off the books."
Both lawmakers said they were surprised by the negative reaction to the Religious Freedom Restoration Act that was passed by the House and Senate and signed by Gov. Mike Pence.
"It snowballed so quickly into a national issue," Ober said.
The two legislators blamed social media for the quick, critical response to RFRA. "The bill doesn't discriminate. It was never intended to discriminate," Glick said.
Ober and Glick reminded the audience that 30 states have their own versions of RFRA, and there is a similar federal law.
"It was misinterpreted, and there was misinformation," Glick said.
Neither Ober nor Glick believes the criticism will do long-term damage to the state's image. "I like to call it a 'family discussion,'" Ober said.
Buchanan spoke about the need for attracting new businesses and industries to northeast Indiana, creating jobs and the need to retain college graduates. "Northeast Indiana's population growth is one-tenth of 1 percent. Without population growth we can't prosper economically," he said. He praised the lawmakers for allocating funds in the state budget for the Regional Cities Initiative. Reported by Dennis Nartker KPC News
Today's weather is supposed to be:
05/18/2015
Hi: 82°
Partly cloudy with a 30 percent chance of showers and thunderstorms. Highs in the lower 80s. Southwest winds 10 to 15 mph with gusts up to 25 mph.
Lo: 50°
Mostly clear. A 20 percent chance of showers and thunderstorms through midnight. Lows in the upper 40s. Northwest winds 10 to 15 mph.
Take care and be safe!!! Have a wonderful day!
Shelly
Wednesday, 6 May 2015
DELAYS
STEUBEN COUNTY
Angola Head Start: 2-Hour Delay
Fremont Community Schools: 2-Hour Delay
Fremont Head Start: 2-Hour Delay
Hamilton Community Schools: 2-Hour Delay
MSD Steuben County: 2-Hour Delay
NE Ind. Special Ed Coop-Steuben Co.: 2-Hour Delay
Prairie Heights Schools: 2-Hour Delay
All God's Children Preschool - Angola:

1 1/2 Hour Delay
Heaven Sent Preschool: 1-Hour Delay
DEKALB COUNTY
DeKalb Central Schools: 2-Hour Delay
DeKalb County Eastern Schools: 2-Hour Delay
NE Ind. Special Ed Coop-DeKalb Co.: 2-Hour Delay
DeKalb Central Schools: 2-Hour Delay
DeKalb County Eastern Schools: 2-Hour Delay
Garrett Keyser Butler Schools: 2-Hour Delay
Lakewood Park Christian School: 2-Hour Delay
LAGRANGE COUNTY
NE Ind. Special Ed Coop-LaGrange Co.: 2-Hour Delay
LaGrange Head Start: 2-Hour Delay

Posted by noblecocouncilonagin at 6:12 AM EDT |
Post Comment
|
Permalink
Updated: Wednesday, 6 May 2015 7:36 AM EDT
Monday, 4 May 2015
Good Morning Ya'll,
I hope you had a wonderful weekend since the weather was just awesome! We had the windows open and enjoying the cool breeze since the temperatures were up in the warmer stages now and to which I hope they stay! I know the parks were very busy with everyone out enjoying the weather. We had our two grandson's and we took them out to the park yesterday and on saturday we had a picnic at the lake and they wanted to fish for a bit so we let them fish ( nothing was biting at the time). Will be glad when Bixler installs their new playground equipment for the kids as of right now they are really limited to the main entrance for the playground and that gets crowded with all the kids. We did cook out on the grill for the first time this year!! It was awesome! What fun did you do for the weekend???
We do have a trip to Moose Lake this month on the 20th. We will be closed ont Memorial Day May 25th but will open back up on May 26th.
Don't forget that we have the May Carry-In Dinner on the 14th. There will be the Red Hat Ladies having their monthly meeting, SHIP with Annette will be here and there will be bllod pressure checks for whoever would like to see how their blood pressure is doing.
Also don't forget that May 10th is also Mother's Day!!!
May 16th is National Armed Force's Day.
Today we have Kendallville Manor coming in around noon to call the numbers for our Bingo players. So ya'll come on in and have some fun!!! Course there is bingo every Monday of the month unless it is posted otherwise. You can also call to make sure we are having bingo especially during the winter months!
We have Bridge tomorrow and they come in every other Tuesday during the month. So if you like to play bridge then come on in and have some fun!
We also have Euchre every Friday!!! Come on in as they have a blast from what we can hear upstairs.
We have Toni with the Foot Clinic on the 1st. Thursday and 2nd Wednesday of the month. Call ahead of time to get scheduled in a time slot.
Check out the website for more information on our up coming trips and any other information that could be helpful. If it isn't on the site then give us a call and we will be happy to help you find what you are looking for.
Hope you all have a wonderful day!
Shelly
Tuesday, 31 March 2015
Morning Ya'll,
I hope you all have a great day as it does look like it will be a wonderful day. Course this is the last day of March and April will be here tomorrow!!! I know it is now Spring as I heard the peep frogs last night and I have been hearing them this morning while I'm here at work. Don't forget that this Sunday is Easter and it is coming up fast!! Peter Cottontail will be out and about on Sunday making all the kids looking for hidden Easter Eggs that are filled with candy, money and whatever else he/she puts in them!
Lets see what's going on in the news. Wolcottville hosts Easter Egg Hunt. For nearly 100 years now, the Wolcottville Lions Club has been hosting an Easter egg hunt for the town's children, and this year will be no different.
The annual Easter egg hunt returns to Taylor Park on the town's south side this Saturday, starting at 2 p.m. Grand prizes for this year's event include four bicycles.
Children will be divided into two age groups and then sent out to hunt for special prize bags. Each child will then receive a special ticket with a number and allowed to head into town to hunt for those grand prizes at local businesses and shops.
All prizes are offered by the owners of Wolcottville's businesses. Reported by KPC News
Today's weather is supposed to be:
03/31/2015
Hi: 54°
Mostly cloudy in the morning then becoming partly cloudy. Highs in the lower 50s. Northwest winds 5 to 15 mph.
Lo: 33°
Mostly clear. Lows in the lower 30s. West winds around 10 mph.
Take care and be safe.
Shelly
Monday, 30 March 2015
Good Morning Ya'll,
I hope your weekend was a good one. I know it was a nice but chilly out and then yesterday afternoon and evening we had some freezing rain and a few snow flakes coming down. At least it didn't stick or make things slick around town for this morning. I hope you have a great day today as it does look like it is supposed to be nice and warmer.
Today we have Chandler House coming in around noon to call the numbers for our Bingo players. So come on in and have some fun!!!
Lets see what's going on in the news. Park hosts Easter egg hunt. The Kendallville Park and Recreation Department's fourth-annual Nighttime Easter Egg Hunt will be Thursday at 8 p.m. on the east side of Bixler Lake Park.
Everyone should meet in the Bixler Lake campground Lions Pavilion.
Children ages 2-12 can participate and should bring a flashlight and basket to collect eggs. Prizes will be awarded.
Those needing additional information should call the park office at 347-1064. Reported by KPC News
Today's weather is supposed to be:
03/30/2015
Hi: 51°
Mostly sunny in the morning then becoming partly cloudy. Highs in the lower 50s. West winds 10 to 15 mph with gusts up to 25 mph.
Lo: 41°
Cloudy through midnight then becoming mostly cloudy. A 30 percent chance of rain. Lows in the lower 40s. Southwest winds 5 to 15 mph.
Take care and be safe.
Shelly
Wednesday, 25 March 2015
Germanwings Airbus Flight A320
Morning Ya'll,
I hope you have a great day today. It was misty this morning when I came into work and now looks like most of the rain is out of the state now. So we should hopefully start to warm up today.
Would like give our thoughts and prayers to all the people who lost their lives in the airplane crash in the Alps yesterday. It is a heart breakingto hear this and so many children on board but it was their time to go in my opinion. God Bless them all!
Lets see what's going on in the news. School leaders call for a change. Saying that a steady stream of changes to Indiana education policy has created an environment in which districts are now in "crisis," LaGrange County superintendents stood together Tuesday afternoon and asked a room full of people to tell their state elected officials to stop hurting rural public schools.
Westview School Corp.'s Randy Zimmerly, Jeff Reed of Prairie Heights Community School Corp. and Eva Merkel, the interim superintendent of Lakeland School Corp., each took their turn at a podium set up in the community room of the LaGrange County Public Library and addressed a crowd of about 40 people. The superintendents said new rules and changes to Indiana's public education system over the past six years are doing more harm than good for students.
One of the biggest problems now facing local districts is the changing landscape of public school funding, Zimmerly said. State funding, he said, favors wealthier school districts over those serving less affluent populations, and takes away money from rural school districts.
The General Assembly is presently considering school funding as it works to craft a biennial budget.
"We don't need an ever-changing funding formula that determines winners and losers every two years," Zimmerly said. "Our LaGrange County public schools are funding losers in the current funding formula. Why?"
Zimmerly went on to tell the audience that state lawmakers need to slow down on efforts to reform education and pay attention to the "unintended consequences" those laws are creating for "solid, well-performing and improving school districts, and those (laws) are harming our children."
He said the solution is to balance the funding formula and support policies that improve rural education.
Merkel said much of the good work done every day by the county's three school districts isn't being acknowledged at the Statehouse, and she suggested audience members remind legislators about the dedication shown by local educators to their students.
"What we want from our legislators and what we are suggesting is that they understand the hard work we do every day," Merkel said. "We work tirelessly every day to provide the best education possible. We want our legislators to make the wise choices — that's why we elect them — and so we want them to work with us, to dialogue with us to help us make our jobs easier and better for kids."
She added lawmakers need to remember the needs of rural communities when creating education policy.
"Be fair to all children, including rural communities," Merkel said. "And be consistent. Stop the moving target of finances and testing. Trust us to do the job we do best."
Reed said a continuing erosion of funding to LaGrange County schools will ultimately cause a crisis in local classrooms because low pay is forcing good teachers to leave. Reed also said stagnant teacher pay is causing fewer and fewer people to choose a career in education.
"The cost of living is going up and pay is not," he said. "How do you maintain academic success, or improve on academic success, if you're going to be shuffling staff in and out every year? It's not going to happen.
"None of our teachers went into this profession expecting to get rich. However, they do expect to make a decent living, or at least reflect the cost of living. And right now, it's not."
Beth Sherman, the executive director of the LaGrange County Chamber of Commerce, which organized the forum, said the purpose of the event was to "bring awareness to our state legislators to make education funding fair to our rural communities."
Responding to a question from the audience, Merkel admitted local educators had stayed silent on many education issues because they did not want to seem overly political. But she and her fellow administrators were standing up now because the results of policies enacted in Indianapolis can be seen in local classrooms.
"It's finally gotten to a point where we're seeing it adversely affecting the children in our classrooms," Merkel said. "Educators tend not to be political. We're there for our kids. But it's to a point now where we have to say something, and we have to rally our communities. This is about our kids." Reported by Patrick Redmond KPC News
Today's weather is supposed to be:
03/25/2015
Hi: 53°
Cloudy with rain likely in the morning...Then mostly cloudy in the afternoon. Highs in the lower 50s. Southwest winds 10 to 20 mph with gusts up to 30 mph. Chance of rain 70 percent.
Lo: 35°
Mostly cloudy with a slight chance of rain through midnight...Then rain likely after midnight. Lows in the mid 30s. West winds 5 to 10 mph shifting to the northwest toward daybreak. Chance of rain 70 percent.
Take care and be safe.
Shelly
Tuesday, 24 March 2015
Morning Ya'll,
I hope you have a great day today as it is supposed to warm up today and tomorrow!! We will have Spring like temperature for a couple of days this week and then it drops back down but then it just comes right back up again. Spring is on a roller-coaster ride this year. I do have some tulips starting to come up and I just hope they don't freeze when the temperature drops again if the didn't from last night's cold temperature. Right now our temperature is sitting at 17 degrees. (brrrrrrrr)
Today we have our Bridge players coming in around noon to 1'ish to have their card game.
Lets see what's going on in the news. Noble County Commissioners tackle meth cleanup issues. The Noble County Board of Commissioners Monday clarified how to address cleaning up vehicles and residences in which methamphetamine labs have been found.
In an ordinance passed Jan. 5, there was an unintended consequence for vehicles that could have left towing companies stuck with an unsalable and unsafe vehicle was addressed, and the consequences for someone moving back into a residential meth lab site without cleaning it up were identified.
Avilla Motor Works owner Jeff Watson asked the commissioners to help with the problem of a hold being placed on a vehicle that had housed a mobile meth lab.
Watson said his workers had towed the vehicle to his lot at the request of law enforcement, and then a hold was placed on the vehicle by the Noble County Health Department because it had housed a mobile meth lab.
In the past, Watson would go through procedures to get possession of the vehicle, then would crush it since it had toxic chemicals all through it that could endanger later users. But the hold made it impossible to proceed in doing that, he said.
"In doing that, you created a financial burden on the towing companies that tow for law enforcement," Watson said. "You've got to give us paths to dispose of the car."
Noble County Health Officer Dr. Terry Gaff said the intent of the ordinance was to keep rolling meth labs from getting on the street to unsuspecting buyers without proper cleanup, not to create a burden for towing companies.
What Watson was doing was the best option in the case of mobile meth labs, Gaff said, adding, "We would prefer that they get crushed."
County Attorney Dennis Graft will put together a form for the health department to release such vehicles to be destroyed, and the other procedural steps Watson has followed in the past will continue to be in place, Graft said.
The health department and Noble County Sheriff Doug Harp also raised concerns that people whose homes have been condemned due to meth labs inside are removing the signs and moving back in without cleaning up from the lab.
A violation of the ordinance is a Class B misdemeanor, which carries a potential sentence of 180 days in jail, said Noble County septic sanitarian Jason Pippenger.
State law allows five to 14 days for those who have been ordered to vacate a meth lab site to leave, but the county ordinance orders people from the residences immediately. An appeal procedure is provided in the ordinance.
Property owners are responsible for all cleanup costs under the ordinance. Tearing down notices violates the ordinance.
The health department will get a list of residences, garages and other property locations of meth lab sites to the Noble County Sheriff's Department.
"If a case is brought, we'll charge it," Noble County Prosecutor Eric Blackman said.
Also Monday, the commissioners:
• scheduled a review of a proposed 2016-2017 County Economic Development Income Tax plan for the April 13 meeting.
• approved rezoning two properties at 1592 W. C.R. 800N from A1 to A3. The rezoning was unanimously recommended Wednesday by the Noble County Plan Commission
A3 agriculture zoning allows for confined feeding of swine. Representatives of Wysong ETL said the plan is to install a facility so they can separate weaning pigs from sows to prevent an illness from spreading through the entire herd if one develops. Reported by Bob Braley KPC News
Today's weather is supposed to be:
03/24/2015
Hi: 41°
Mostly sunny in the morning then becoming partly cloudy. Highs in the mid 30s. East winds 5 to 15 mph.
Lo: 36°
Mostly cloudy with a chance of rain showers through midnight...Then rain showers and a slight chance of a thunderstorm after midnight. Lows in the lower 30s. Southeast winds 10 to 20 mph. Chance of precipitation 90 percent.
Take care and be safe.
Shelly
Monday, 23 March 2015
Good Morning Ya'll,
I hope you had a good weekend it was nice but a little bit chilly out. I did see some people out cleaning up their yards but I thought it was too windy and chilly to be out. I will wait for it to be a bit warmer before I go out. We have already picked up some of our tree limbs and have them out in our parkway. I know our maple tree from where they trimmed it back is surely dripping with maple sap but we don't want to catch any because we are not sure what they put down in the ground at the tree after they cut the limbs off. Spring has began and we have seen some robins about but I have not heard the peeper frogs yet and so I won't say it is Spring until I hear them.
This morning it is a bit chilly out there and light wind. There was no frost on the car windshield this morning. No delays for school because the schools are on Spring Break for 2 weeks.
We do have our Bingo's back on Monday's again and today we have Lutheran Life Villages coming in around noon to call the numbers for our Bingo players. So if you have missed coming to Bingo then come on in and join the fun...win some prizes!!
Lets see what's going on in the news. Campaign continues at the United Way agency. The United Way of Noble County may have to reduce funding to its partner agencies because of a shortfall in its annual campaign.
The local chapter of the United Way is still trying to achieve its fundraising goal of $215,000. The shortfall is close to $30,000, according to Dawn Modlin, executive director of Noble County's United Way.
The amount of the shortfall can and will be reduced by donations still coming in, she said.
"How many agencies will be funded and the amounts they will receive may be less, due to the shortage, but it is still a commitment that United Way of Noble County will keep," Modlin said.
Among the United Way of Noble County's partner agencies are: Life and Family Services; Noble House Ministries; Friendship Food Pantry; CASA; Boomerang Backpacks; Drug Free Noble County; Early Childhood Alliance; Kendallville Day Care Center; the American Red Cross; the Salvation Army; and Hoosiers Feeding the Hungry.
According to Modlin, the shortfall in reaching the goal is due to several factors, including the loss of a few significant industries that did not hold employee campaigns as they have done in the past. There were fewer small businesses, professional organizations and individuals that gave this year as well, she said.
But one important factor that will be addressed before the next campaign is the lack of a fundraising campaign chair and cabinet, Modlin said. For the second time in the past three years, the United Way has conducted its campaign without a chairperson or a cabinet.
The campaign cabinet, explained Modlin, is a group of volunteers from across the county who are trained to assist with fundraising in five areas: industry; commerce; professional; community; and individuals.
The agency, she said, is accepting donations in most any form, from one-time giving to establishing an employee-contribution program through payroll deductions.
At the same time, the United Way of Noble County is determining what it will be able to give to its partner agencies. Through June, committees will review existing and new requests for funding from local nonprofits.
Modlin said if the $30,000 shortfall can't be eliminated in the next 90 days, the local United Way board of directors will have to make a decision.
"We will have to select to fund a fewer number of agencies, or if we stay with the same amount of agencies, we will have to fund less amounts. But either way, United Way is committed to continuing the funding of the important agencies that work hard at improving the quality of life in our county," she said.
Modlin added: "We can always receive funds. It doesn't have to be just during a certain time of the year. Year-round donations are acceptable and appreciated."
Individuals interested in serving as the chair for the next fundraising campaign or serving on the chairperson's cabinet should contact Modlin.
Event thanks campaign contributors
Despite the shortfall, the United Way of Noble County will host its annual "Thank You Luncheon and Awards Ceremony" on Friday, April 24, starting at noon at the Kendallville Event Center.
At the April 24 event, the United Way will thank businesses and individuals who did contribute this year, and recognize leaders in the community. Awards will include the greatest amount raised in a business with 500 or more employees, as well as the business with fewer than 500 employees. The United Way will also award the company that had the highest average contributions per capita and the most creative employee campaign.
Leadership givers who contribute more than $500 will be recognized.
The event is open to the public. To reserve a seat, call the United Way office at 347-6822 or email executivedirector@uwnoble.org. Reported by KPC News
Today's weather is supposed to be:
03/23/2015
Hi: 34°
Snow. Snow accumulation around 1 inch. Highs in the mid 30s. East winds 5 to 15 mph. Chance of snow 90 percent.
Lo: 23°
Partly cloudy through midnight then clearing. Lows in the lower 20s. East winds 5 to 10 mph.
Take care and be safe.
Shelly

Newer | Latest | Older